Pastoral Director
Fr Bob Sheridan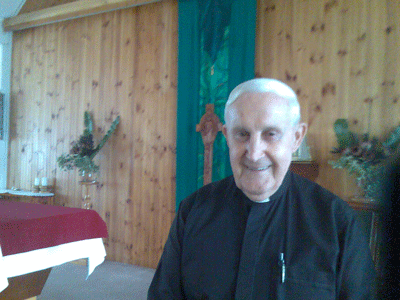 In 2010 Fr. Bob Sheridan was appointed as our new Parish Priest by Bishop Anthony Fisher. He will bring his priestly gifts to enrich our parish and we now will be celebrating Mass at Sacred Heart, on Sunday at 9.30AM, Tuesday, Wednesday & Friday mornings at 9.00am, Thurday at 8.30AM and on Tuesday evening at 6.30PM.
Here is a link to Bishop Anthony Fisher homily at Fr. Bob's inauguration at Blackheath
and
2014 photos of Fr. Bob as we celebrate the 10 Year Anniversary of his Ordination
---
2003 - 2009
Sister Lyn Eastmure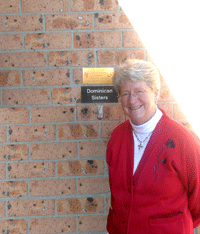 Pastoral Director Sister Lyn Eastmure resigned from Sacred Heart Parish in December 2008 after giving the most wonderful six years of pastoral service and parish leadership to our community. We wish her all the very best in her future work for the church.
Sr Lyn, reflected that her work in the absence of a resident priest brought a renewed purpose and mission to the place.
In the early 1990s the steady decline in the numbers of clergy in the Catholic Church in Australian dictated the need for changes in the Blue Mountains. In 1993, two Sisters of Charity took up residence in the parish house and as a result of diocesan consultation, the parish continued without a resident pastor. These Sisters left at the end of 2002 and a Dominican Sister , Sister Lyn Eastmure, was appointed in 2003 and continued to lead the parishioners in running the parish.
Lyn said she feels blessed by her ministry at Blackheath 2003-2009. "I meditate in the morning to focus for the rest of the day. I really was very lucky because in the mountains where I lived I saw recognition of God's creation everywhere."
"As a Dominican I tried to be what I preached," Sr. Lyn says. "How you receive people depends on how open you are to them. Parishes are always owned by the community, and a good parish always has an effective pastoral council."
A roster of wonderful priests led the community and the many visitors at Sunday Celebration of Eucharist throughout this period. We remain deeply grateful to them and the Parish Council who so ably organised the supply of priests during this time
Fr Paul Maloney OSA; Fr John Frauenfelder; Fr Joseph Sobb SJ; Fr John McCall OSA; Fr Paul Hanna ; Fr Mark O'Brien OP; Fr Peter Jones OSA; Fr Walter Fogarty; Fr Kevin Bates SM; Fr Bernard Shah; and Fr. Peter Collins OBS
Ministries Mainpage
Catechists
/
Children's Liturgy
/
Ministers of Holy Communion
/
Music Ministry
/
Lectors
/
Liturgy
/
RCIA
/
Sacramental Team